COMBINED DEFENCE SERVICE EXAM (CDS Exam)

Fast Track Course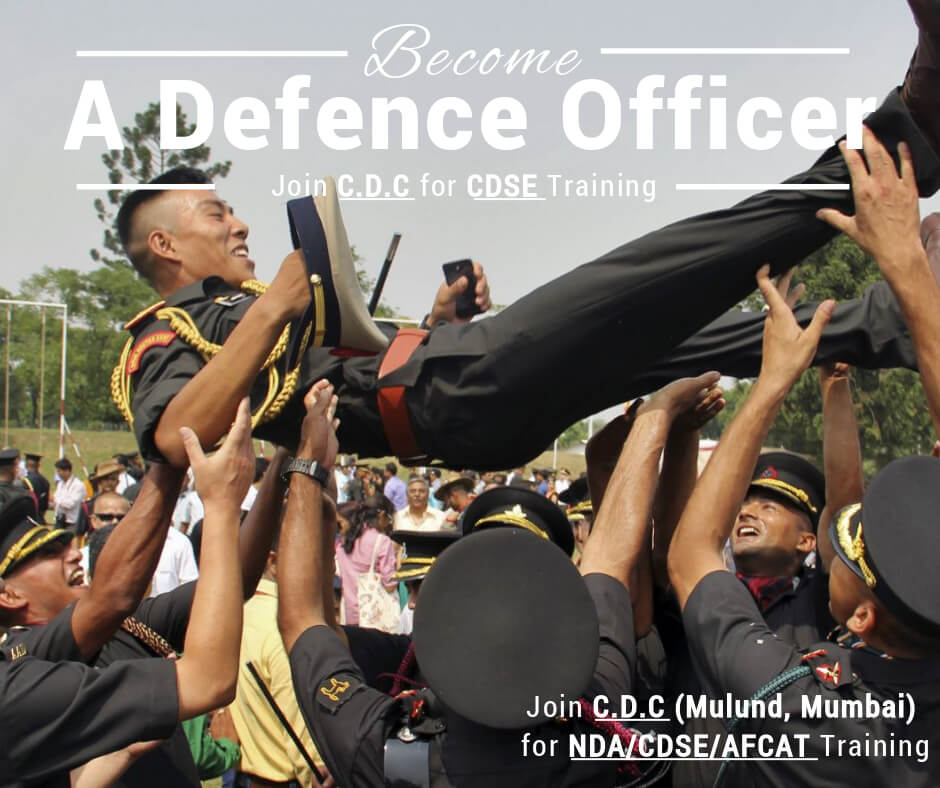 About EXAM
The "Combined Defence Services"Examination (CDS) is conducted twice a year by the Union Public Service Commission for recruitment into the Indian Military Academy (IMA), Officers Training Academy (OTA), Indian Naval Academy (INA) and Indian Air Force Academy.
Fast Track CDS – 2018
6 Weekend Course.
120 hours, of learning.
Time: 9am to 8pm.
Sat & Sunday.
Date: 25th November – 31st December 2017.
Fees: Rs. 30,000/- Rs. 20,000/-
*(Before 19th November after that Rs. 30,000/-)
For CDS – 2018
In competitive examinations TIME matters, everyone can solve that one question but it is the ONE who cracks it least time, (specially Maths & Mental Ability) CLEARS the Exam.
TRICKS to solve mathematics problems in least time, Improved General Knowledge, History, Geography, Basics of Science, Mental Ability & Current Affairs. Which will also help you in your future.

Your general aptitude & vocabulary will boost up by more than 85%.

Quick response with a clever plan comes with practice & balance. Learn how to think fast in a critical situation
So be SMART, act SMART, start your training with us today.
VIEW COURSE CURRICULUM
GENERAL KNOWLEDGE

Current events




History of India




Geography




General Science
ELEMENTARY MATHEMATICS

Arithmetic




Elementary Number




Algebra




Trigonometry




Geometry




Mensuration




Statistics
WHO SHOULD ATTEND?
Students currently undergoing Graduation (Final Year, Second Year and Third Year).

Graduates.

Students from Science, Commerce, Arts & Engineering are eligible.
For I.M.A. and Officers' Training Academy: Degree of a recognized University or equivalent.

For Indian Naval Academy: Degree in Engineering from a recognized university/institution.

For Air Force Academy: Degree of a recognized University (with Physics and Mathematics at 10+2 level) or Bachelor of Engineering.
For IMA, INA, AFA: Males only, Age: 20 – 24 years.

OTA : Male/Female : Age 20 – 25 years
Note: Those candidates who are studying in the final years Degree course and have yet to pass the final year Degree examination are also eligible to apply.
Rs 30,000/- plus taxes extra.

Rs. 20,000/-*
*(Before 19th November after that Rs. 30,000/-)
For any query or help regarding NDA/CDSE,
Please feel free to contact us on
9320704957 /022 25935008
or just simply send your Query on :
centrefordefencecareers@gmail.com