Navy Recruitment Training Course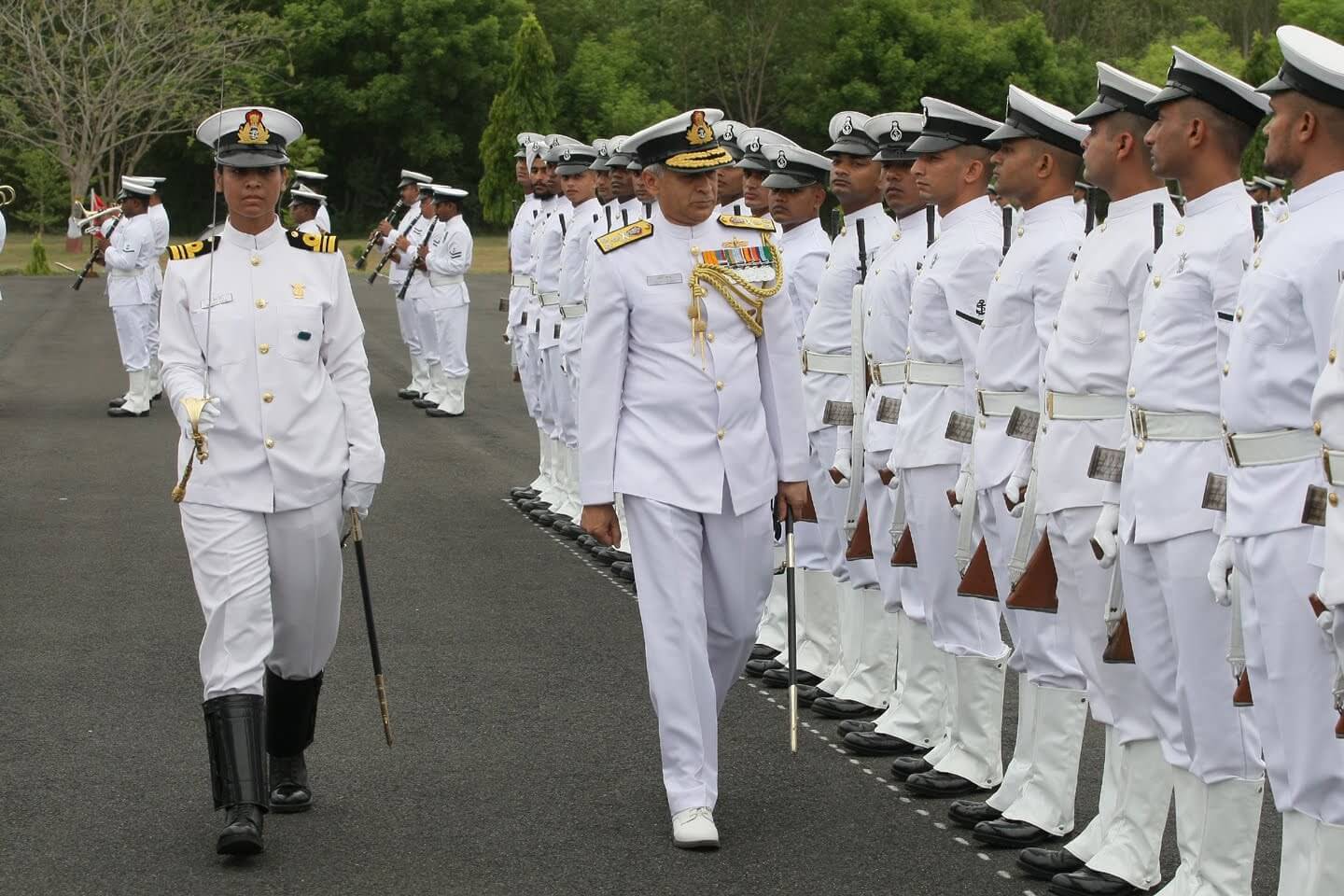 Minimum Educational Qualification and Age Criteria
Ser. No
Category
Education
Age
(1)
Artificer Apprentice (AA)
(a)1st Condition. Applicant should have passed Class 12th or equivalent with subjects of Physics, Chemistry and Mathematics.

(b) 2nd Condition. Minimum qualification marks required for applying for a particular type of entry into Indian Navy may vary and the same would be promulgated in the advertisement in Newspapers and this website on as required basis.

17 – 20 Yrs
(2)
Senior Secondary Recruits (SSR)
(a) 1st condition . Applicant should have passed Class 12th(Intermediate) with Science stream with compulsory subjects of Physics and Mathematics and Optional subjects of Chemistry or Biology or Computers.

(b) 2nd condition . Minimum qualification marks required for applying for a particular type of entry into Indian Navy may vary and the same would be promulgated in the advertisement in Newspapers and this website on as required basis.

17 – 21 Yrs
(3)

Matric Recruit (MR) And Non-Matric Recruit(NMR)

(a) MR Steward/ Cook. Applicant should have passed 10th class examination.
(b) NMRs Topass. Applicant should have passed 6th class examination.
17 – 21 Yrs
(4)
Musicians

(a)Applicant should have passed 10th class examination and should be able to exhibit an aptitude for music.

(b) The candidates applying should have proficiency in western notation, aural aptitude, knowledge of Theory of Music and actual practical skill on any Musical Instrument.

17 – 21 Yrs
DOCUMENTS REQUIRED
The following documents are to be punched and tied firmly with a strong thread to the application in the sequence as given below:-

Application is to be filled in capital letters with one recent Passport size photograph pasted at the top right corner and one spare recent Passport size photos with the candidate's name written on the reverse attached along with the form (in the absence of recent photograph, candidate will not be allowed to appear in the examination).

Self Attested copy of the following certificates:-Matric /equivalent certificate for verification of date of birth.

Mark sheet and certificate of Diploma/Higher Board examination/ Matriculation as applicable.

Domicile certificate.

Two self-addressed envelopes of size 22 x 10 cms with Rs 10/- stamp affixed on one envelope and one envelope without stamp is to be submitted along with the application form. (White colour envelop for AA entry and brown colour for SSR/MR/NMR entry). On top of the envelope containing the application the Type of Entry, name of State, Percentage in exam and name of Exam passed is to be clearly written. Example:-AA(130BATCH)-KERALA-65%-(10+2Science) OR SSR (2/2011 BATCH) -HARYANA- 76% – (10+2 Science) Shortlisting of application is done on the basis of higher education percentage of marks.
Who should Attend this Course
Class X appearing/passed, HSc, Graduates.

Age : 15 years and above to 23 years or as per eligibility from above mentioned Recruitment Table.

Students from any stream e.g. Science, Commerce, Arts, etc.
What should you expect from this Course
The Course has been designed & developed by C.D.C which enables student LEARN, MEMORIZE & RECOLLECT (LMR).
By using the specially developed "LMR" program, your performance will boost upto 85% then your current status. You will be in a much higher position compared to other candidates.

The 'LEARN, REMEMBER & RECOLLECT' (LMR) Program is a sole proprietary program of Centre For Defence Careers (C.D.C).

Most important thing in any exam is to recollect what you have Read or Memorised

, with LMR technique you can remember you can recollect 73% more data comparing to student learning from books or coaching.

In competitive examinations TIME matters

, everyone can solve that one question but it is the ONE who cracks it least time, (specially Maths & Mental Ability) CLEARS the Exam.

TRICKS to solve mathematics problems in least time, Improved General Knowledge, History, Geography, Basics of Science, Mental Ability & Current Affairs. Which will also help you in your future.

Your general aptitude will boost up by more than 85%.

Another feather in the cap is that you undergo a rigorous personality development & are transformed into a confident personality.

Basics of Endurance & Stamina Building training workouts, designed by Best in Industry. You will be trained strictly under Ex-Service Personnels not by assistants or NCC students.

Will be taught about Food, Exercises, Stamina, Endurance Building

and how body works for maximum results.
So be SMART, act SMART, start your training with us today.
Fees : Rs 6,000/- plus taxes extra.
Fees include
Study material
Mock Test Series
Previous Papers
Progress Evaluation Sheet
C.D.C printed logo exercise T-Shirt.
Duration : 2 months Written Training & 6 months Physical Training
Batches : Morning or Evening / Weekdays or Weekends or Sunday .
Physical Training : 6 days a week.
Batch Strength : 12 per Batch.
Venue : Mulund West ( Near Railway Station)
For any query or help regarding NAVY RECRUITMENT COURSE,
Contact us/WhatsApp on :

9320704957
or just simply type your Query below :