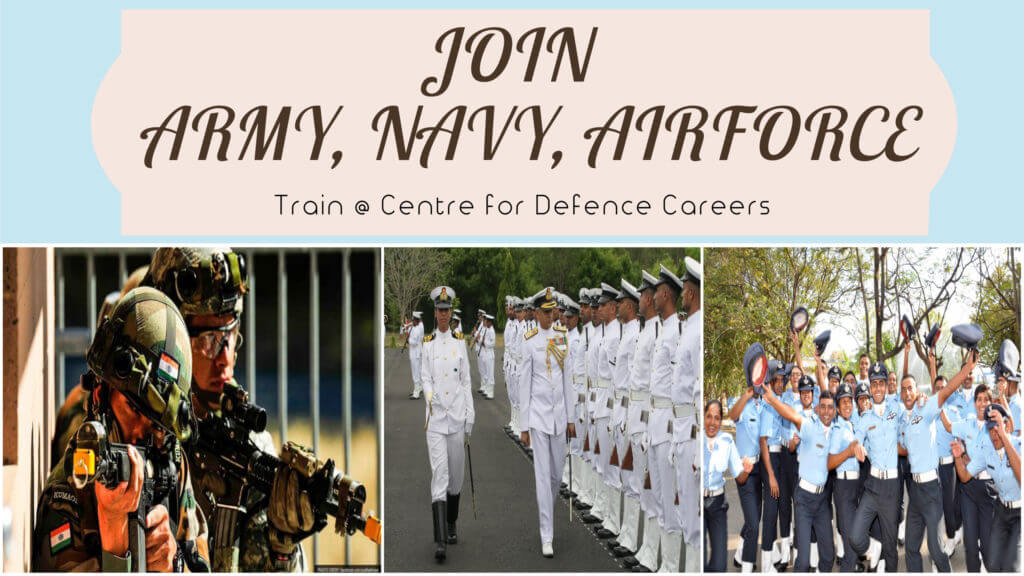 SPECIAL BATCHES with 100% Money Back Guarantee
---
Training @ Centre for Defence Careers
To Clear the Examination 3 Things are required
1. Right Course Material
2. Immaculate Planing
3. Proper Preparation
1 Right Course Material
There are Various books/notes/etc available in market on all entries, Some books are complied for all subjects e.g. Arihant,upkar,etc., some are on single subjects S Chand Publications,etc. It is very difficult to choose any single book and say this is the Best and say if someone prepares from this book He will clear the paper. Some books are Good in particular portions and some are good in other portions. And if candidate start segregating which book covers which Topic better, he will end up loosing a lot of time. Hence, as a Training Institute for Defence Entries, we feel its our responsibility to collect and compile all the best data at 1 place and thats what we have done. We have made most Comprehensive Study material and we update it regularly as we do it in house and don't have to wait for new book to do it for us.
2 Immaculate Planing
Generally when we ask candidates their plan for clearing the Examination we get an answer " I will first Finish the whole book (syllabus) and then Solve Last years Question Papers". Not just candidates who self study for Exams but even Coaching Institutes make the same 2 step plan.
i. Finish Syllabus
ii. Solve Last years Question papers
We are not saying these 2 Steps of preparation are wrong, even we also follow both steps(in a very different way). BUT our objection is THESE 2 STEPS CAN NEVER BE PLAN to clear the exam, it is a way of Proper Preparation. Plan for clearing the Exam is just like Military Planing We need to gather as much information about situation(in this case Exam), synthesise and analyse the data received, understand the game plan(in this case process, syllabus, type, portion, etc., understand one's strength and weakness, etc. Plans are made so that journey to accomplish it becomes easy. Since every candidate is different from other, every single candidate requires his own plan to clear the Exam. And Individual Planing is USP of Centre for Defence Careers and when a student also understand the way we along with him are proceeding ahead, he become more confidant about the exam.
3 Proper Preparation
When we hear words " Proper Preparation", first thing that comes to mind is Finishing the entire syllabus, if we can add anything it will be solving last years Question Papers. For us, "Proper Preparation" is a journey that candidate go through and has his own ups and downs. Since we have an experience in this field, we have noticed few Problems that Candidates Faces : e.g.
i. Some Portions are Easy Some are Hard and Some are very Tough
When a candidates starts his preparation he finds some portion easy, some relatively tough and some very Tough. So he easily covers Easy part, in relatively tough portion he tries sometimes he understand it sometime he doesn't. In this situation he either skip it for the last or retries it. For the Tough portion he himself becomes a bit reluctant as he didn't understood these topics in his school/college days. and if he doesn't understand this again he tries to skip it. This type of situations lead to loosing interest of candidate in topic and sometimes in the examination itself.
ii. Time
We have seen when a candidate starts preparing for exam he is full of enthusiasm, he allocates at least 1 hour of self study for the examination. But as first 10 days goes by, he struggles to manage time as he has to go to school/college/job then classes for school/college, some family/social commitments come, self study time, etc. Out of any other problem faced by candidates, this is the biggest one.
iii. Finding the Perfect Book
Candidates always want a Perfect Book for preparation out of which the question paper should come, and this is not possible.
Since we have been training candidates for quite sometime now, we have identified the problems in their journeys to clear examination. We are constantly trying to solve or remove the problems faced by them and in order to do so we have bought many innovative solutions to their issues.
e.g. we have developed LMR ( Learn Memorise and Recollect) technique in-house, it helps them to learn easily, it makes tough topics easy to understand.
For saving time we have gamified almost entire syllabus, now even on 15 min break they can play and learn. This does not allow the candidate to miss his preparation for the day.
As mentioned earlier, We have made a comprehensive and thorough Course Material so that even they do not not get the Perfect Book, they still have best Course Material.
**** Note, you may also like to read Want to Learn "The BEST Way to prepare for NDA/CDSE Written Exam?" & How to Prepare for NDA/CDSE
---
Eligibility Criteria
Age : 15 – 25 (Different entries have Different Requirements)
Education : 10 – Graduation (Different entries have Different Requirements)
---
Why does C.D.C offers Special Batches of 100% Money Back Guarantee Courses
C.D.C is utmost confident about it's Course Material, Planing to crack Exam, Training Techniques that its candidates will sure to qualify the exam hence, it offers SPECIAL BATCHES with 100% Money Back Guarantee Courses for all Entries.
---
For any query or help regarding NDA/CDSE,
Please feel free to contact us/
WhatsApp on 9320704957
or just simply type your Query below :