Army Bharti/Army Recruitment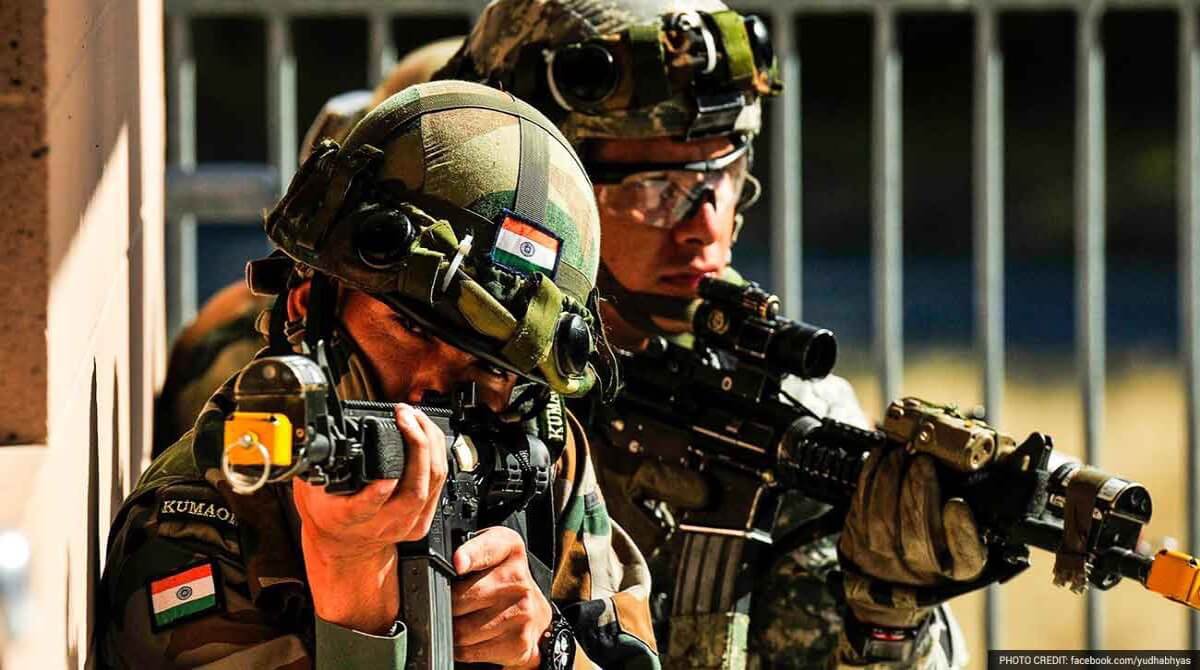 Minimum Educational Qualification and Age Criteria
Ser. No
Category
Education
Age
(1)
Soldier (General Duty) (All Arms)
SSLC / Matric with 45% marks in aggregate and 33% in each subject. No percentage considered in case candidate has passed with higher qualification ie 10+2 and above.
17 ½ – 21 Yrs
(2)
Soldier (Technical) (Technical Arms, Artillery, Army Air Defence)

(a)Sol Tech 10+2/Intermediate Exam pass in Science with Physics, Chemistry, Maths and English with 50% marks in aggregate and 40% marks in each subject.

(b)Sol Tech (Aviation & Ammunition Examiner) 10 +2 / Intermediate exam pass in Science with Physics, Chemistry, Maths and English with 50% marks in aggregate and 40% marks in each subject. OR Three years Diploma in Engg (Mechanical /Electrical/ Automobiles/ Computer Science Mechanical Engg and Electronic & Instrumentation Engg) from a recognized Polytechnic Institute( No Education relaxation for this category is existing presently).

17 ½ – 23 Yrs
(3)
Soldier Clerk / Store Keeper Technical (All Arms)
10+2 / Intermediate Examination Pass in any stream (Arts, Commerce, Science). Should have secured 50% marks in each subject and 60% in aggregate in Class XII. Should have studied English and Maths / Accounts / Book Keeping in Class XII or Class X. Should have secured min 50% marks in each of these subject, whether in Class XII or Class X.
17 ½ – 23 Yrs
(4)
Soldier Nursing Assistant (Army Medical Corps)
10+2 / Intermediate Exam pass in Science with Physics, Chemistry, Biology and English with Minimum 50% marks in aggregate and minimum 40% in each subject. OR In case the candidate has a BSc Degree with (Botany / Zoology / Bio-Science) and English, the stipulation of percentage in Class-XII is waived off. However, the candidate should have studied all the four specified subjects in Class XII also.
17 ½ – 23 Yrs
(5)
Soldier Tradesmen (All Arms)
10th Simple Pass/ ITI (except Syce, Mess Keeper and House Keeper-who may be 8thSimple Pass).
17 ½ – 23 Yrs
(6)
Survey Automated Cartographer (Engineers)
BA/BSc with Maths. Must have also passed 12th class(10+2) or equivalent with Maths and Science as main subjects.
20-25 Yrs
(7)
Junior Commissioned Officer Religious Teacher (All Arms)
Graduate in any discipline. In addition requisite qualification in his own religious denomination.
27-34 Yrs
(8)
Junior Commissioned Officer Catering (Army Service Corps)
10+2 or equivalent exam and Diploma / Certificate Course of a duration of one year or more in Cookery Hotel Management and Catering Technology from a recognized University / Food Craft Institute. AICTE recognition is not mandatory.
21-27 Yrs
(9)
Havildar Education (Army Education Corps)
Group X – MA / MSc / MCA or BA / BSc / BCA / BSc (IT) with B Ed Group Y – BSc/BA/BCA/B Sc (IT) (w/o B Ed.)
20-25 Yrs
Documents Required at the Rally Site
Educational Certificate / Marksheet issued by the Recognized Education Board.
Residence Certificate with photograph issued by the authorised signatory of the State Government / Tehsildar / SDM.
Caste Certificate with photograph to be signed by Village Sarpanch except in the case of SIKH (Mazbi and Ramdasia), Gujjar and Gorkha candidates wherein it is reqd to be signed by the authorised signatory of the State Government / Tehsildar / SDM. Candidates belonging to Dogra Community to produce certificate with photograph issued by Tehsildar / Authorised Government Signatory.
Religion Certificate issued by the authorised signatory of the State Government / Tehsildar / SDM.
School Character Certificate issued by the Schools / Colleges Principal / Headmaster.
Character Certificate with photograph issued by the Village Sarpanch / Municipal Corporation / Police issued within last six months.
Unmarried Certificate with photograph issued by Village Sarpanch / District Administration issued within last six months (If candidate is below 21 years of age).
Relationship Certificate issued by concerned Records Office (Applicable for only the Son of Serving Soldiers / Widows / War Widows and Ex-servicemen).
NCC A / B / C Certificates. In case of NCC Certificate holders relevant certificates and certificate for participation in Republic Day Parade to be produced for dispensation.
Sports Certificate to be produced if represented in the following

Represented India at International level.
Represented State at National Level.
Represented District at National Level.
Represented University Team or Regional Team at District Level.

Candidates having O+ Level Computer Certificate 'Business Professional Programmer' issued by the DOEACC Society.
Latest passport size photographs. Both the ears of the candidates must be visible and SIKH (Mazbi and Ramdasia) candidates must have photograph in turban and without turban.
Kandi area certificate for applicable candidates to be issued by Tehsildar / Authorised Government Signatory.
Note:
Documents mentioned at Paragraph 1 to 11 above are required in original alongwith one photocopy of each document duly attested by Principal / Headmaster / Gazetted Rank Officer. Attested photocopy / printout of education certificate obtained from the Internet duly attested by the school Principal will be accepted at the Rally site for candidates whose original certificates have not been received from the concerned education board after declaration of the result or for candidates who have deposited their certificates in some other institute where they might be undergoing some professional course.
Who should Attend this Course
Class X appearing/passed, HSc, Graduates.
Age : 15 years and above to 23 years or as per eligibility from above mentioned Recruitment Table
Students from any stream e.g. Science, Commerce, Arts, etc.
What should you expect from this Course
The Course has been designed & developed by C.D.C which enables student LEARN, MEMORIZE & RECOLLECT (LMR).
By using the specially developed "LMR" program, your performance will boost upto 85% then your current status. You will be in a much higher position compared to other candidates.

The 'LEARN, REMEMBER & RECOLLECT' (LMR) Program is a sole proprietary program of Centre For Defence Careers (C.D.C).

Most important thing in any exam is to recollect what you have Read or Memorised

, with LMR technique you can remember you can recollect 73% more data comparing to student learning from books or coaching.

In competitive examinations TIME matters

, everyone can solve that one question but it is the ONE who cracks it least time, (specially Maths & Mental Ability) CLEARS the Exam.

TRICKS to solve mathematics problems in least time, Improved General Knowledge, History, Geography, Basics of Science, Mental Ability & Current Affairs. Which will also help you in your future.

Your general aptitude will boost up by more than 85%.

Another feather in the cap is that you undergo a rigorous personality development & are transformed into a confident personality.

Basics of Endurance & Stamina Building training workouts, designed by Best in Industry. You will be trained strictly under Ex-Service Personnels not by assistants or NCC students.

Will be taught about Food, Exercises, Stamina, Endurance Building

and how body works for maximum results.
So be SMART, act SMART, start your training with us today.
Fees : Rs 6,000/- plus taxes extra.
Fees include
Study material
Mock Test Series
Previous Papers
Progress Evaluation Sheet
C.D.C printed logo exercise T-Shirt.
Duration : 2 months Written Training & 6 months Physical Training
Batches : Morning or Evening / Weekdays or Weekends or Sunday .
Physical Training : 7 days a week.
Batch Strength : 12 per Batch.
Venue : Mulund West ( Near Railway Station)
For any query or help regarding ARMY BHARTI,
Contact us/WhatsApp on :

9320704957
or just simply type your Query below :
Your Name (required)

Your Email (required)

Subject
[Army Rally Query]
Your Message